How to Build Your Nail Tech Kit Without Spending Hundreds! Blog by Salons Direct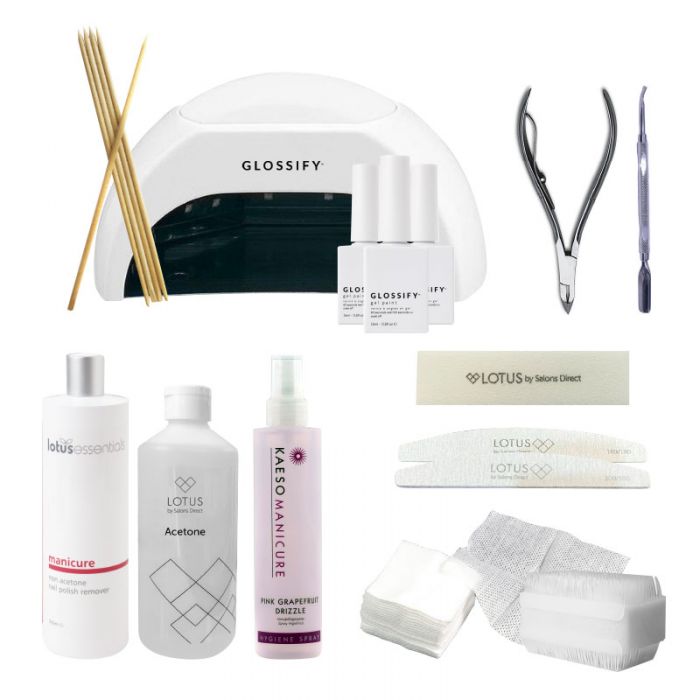 Hi nail tech community! It's Salons Direct here, and we're going to help you build a professional nail tech kit without having to blow all of your budget.
If you've not heard of Salons Direct before, we're the largest online hair and beauty wholesaler in the UK and sell over 14,000 products to bring everything you need for the perfect mani to your doorstep at the lowest prices.
Our exclusive brand, Lotus is a range of affordable yet top-quality nail tools and has been developed specifically for the needs of nail techs, plus we are always on the lookout for the latest new brands to help you take your work to the next level!
Along with being your one-stop-online-shop for all your nail, hair and beauty needs, you can enjoy next-day delivery as standard*. So, you can get to work with your new kit as soon as possible.
Not sure where to start when building your nail kit? Or, are you looking for some new products? Take a look at some of our recommendations to create a professional kit without having to completely blow your budget!
Nail Prep – Get to know Lotus Tools
Nail prep is perhaps the most important part of any manicure. Without a good base, you won't be able to achieve the best results.
At Salons Direct we know how important nail prep is to the manicure process, so we created our own brand of implements and prep essentials! Our vison was to create high quality tools without a huge price tag so they are accessible and cost effective for everyone, because we know building your kit is one of the biggest costs associated to being a nail tech. You'll find nail files and sanding blocks in various levels of grit, and you can also pick up essential tools such as cuticle pushers and nippers made from high quality stainless steel at excellent value. Amy has always been a lover of our Lotus range and we hope you love it too!
Shop top 5 Lotus must haves:
To find everything you need, head over to Salons Direct and browse through our Lotus Nail range.
Nail Hygiene
At Salons Direct we are huge advocates of proper salon hygiene. So, if you are looking for disinfection or sterilisation equipment for your tools, you will find plenty to choose from. From industry leading brand names like Barbicide to vegan hygiene essentials from Navy Professional, you can be confident that your kit is completely sanitary.
Gels Polish
Now onto the fun part! We are always inspired by our Instagram community to discover the most amazing new nail polish, gel and acrylic products that can create stunning results. We are proud to be exclusive suppliers of Glossify, from the best selling naturabuild range to their ever-growing gel polish collection we've got everything you'll ever need to kick start your nail tech journey.
We've even worked with Amy to specially select our best products to create gel polish starter kits, check them out:
Nail Removal
As a professional nail technician, you know that gels and acrylics don't damage nails. But, bad removal can.
So at Salons Direct, our top quality Lotus acetone allows you to safely remove all nail enhancements, at great value for professional use. If you are looking for foil nail wraps, cotton wool or lint-free wipes, don't look any further – we have all the essentials you need to properly remove all types of nail product.
Discover more with Salons Direct!
Are you ready to get building up your nail kit? Head on over to our website now to discover all of our nail tools and brands!
Keep an eye out for offers and discounts throughout the year too – sign up to our emails to be the first to hear about them.
For more of the latest beauty news, tips and advice, be sure to check out the Salons Direct online magazine for fresh inspiration every week.
Or, join our Instagram community @salonsdirect and be the first to see our tutorials with industry experts – tag us with #salonsdirect to be featured yourself!